The big premier of
Game of Thrones
is set to start on Sunday, April 24th.
At the end of the last season, there were many characters in danger, some could possibly be dead. Without answers, the internet has run wild with discussions of what could happen to each of the characters. Is Jon Snow dead? Maybe, we will have to find out. But there is one important question that many people haven't been asking...If the Game of Thrones characters were real, where would they live?
With full knowledge that fans are dying to know, we trudged on through ice and fire (sorry, couldn't help ourselves) to find the answer. The result was the following 5 houses, all fit for your favorite characters.
1) The Chicagoland Castle
As far as
modern-day castles
go, this one in Oak Brook, Illinois is one of the best. Fit for a king and queen, it comes with 5 bedrooms, 7 full bathrooms, and 12,000 square feet. With turrets at the top, you can always defend yourself from attacks on the property. For all this, you only need to pay a measly 4.2 million, a pittance for a member of a royal family. Speaking of a royal family, its local schools make it an excellent fit for a prince and princess. Seriously, if Joffrey would have had a better education, maybe he would stay out of trouble and not be such a punchable character.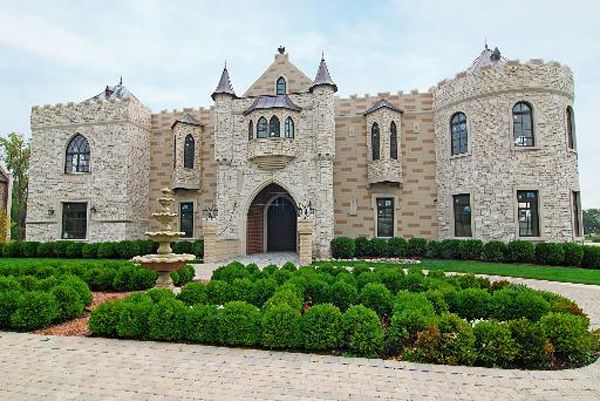 2) Living in a Dragon
Meant to look like a
dragon emerging from a hill
, this home would be a perfect fit for Daenerys Targaryen. Built into the mountain like a cave, the outer shell of this home is covered in scales and overlooks the ocean from Spain's southern coast. Not only is this home incredibly stylish and modern, but it's position would make it nearly impenetrable to attacks - the type of thing you worry about when you live in the
Game of Thrones
world.
3) Solomon's Castle
For those who would prefer winter weren't coming, this castle may be a better choice than our Chicagoland selection. Located in Ono, FL this home covers 12,000 square feet on a Florida swamp. The builder, Howard Solomon, still lives in the castle with 4 generations of his family. Howard had already built the home when he saw an ad stating that the local newspaper was trying to sell used metal printing sheets. He purchased enough to cover his home, which is what gives it the bright silver covering. Not only that, but he has built all of the stained glass windows that are now in the property.
Still not enough of a castle for royalty? Well that's not all. When Solomon built his home up on dry ground, he dug out a moat, which now houses a replica of a 16th Century Portuguese ship that is approximately 60-feet long. Unfortunately for those longing to live in the castle, it is not for sale, but you can
tour it for a price.
4) The Castle in a Tree
So maybe some days you wish you were a Game of Thrones character and other days you wish you could live like a Star Wars character. Well this castle in a tree can make you feel a little like medieval royalty and a little like a Wookie (yes, that is the nerdiest sentence we will ever write).
Located in Hertfordshire, England, this tree house castle was built by
Blue Forest tree house design
and construction. Up among the leaves are two different lofts, one for children and one for adults. While it isn't necessarily meant to be used as a full-time residence, the "adult" portion of the treehouse does contain a kitchen and a bathroom, which allows for extended periods of entertainment.
The extra wow factor is added with two features. The first is a secret trapdoor in the children's tree house, which leads to a game room. The second feature is an 80-yard zip line that allows for an easy escape from the crow's nest, and if you make enemies like a game of thrones character it just might come in handy.
5) The Life of a Modern Day King
So maybe we don't assume that our favorite
Game of Thrones
characters would want to live exactly like they want to in their show. Who knows, maybe they would see some modern architecture and think, "I must conquer and pillage this fine home." Enter a modern day King - King James. Lebron James has had several homes in his time as an NBA player, all of which were amazing.
For example, take a look at his home in Los Angeles, California. James recently purchased the home for almost $21 million dollars and the house covers over 9,000 square feet. With six bedrooms, the home offers enough space for a royal family and several servants. The one downside to this home is the low fence in the front yard, which would invite conquerers from neighboring lands to come overthrow the king or queen lucky enough to live in
this glorious mansion
.